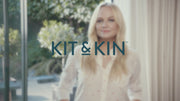 We want to take away the stress and worry parents often experience when trying to choose the best products for their family.
Emma Bunton, co-founder
Protecting your world, naturally
When you choose Kit & Kin, you're helping to protect our planet.

Kinder to you
Supporting families with effective products made from the gentlest ingredients, to protect their world, naturally.

Kinder to our planet
Choosing sustainable, plant- based and non-toxic ingredients, and reusable, recyclable or biodegradable materials.

Giving back
Caring for people and planet with the Kit & Kin Foundation, protecting acres of rainforest around the world, and supporting communities at home and abroad.

Cruelty free
Kit & Kin are proud to be a member of PETA (People for the Ethical Treatment of Animals). By purchasing cruelty-free products you can help save a number of animals from excruciating tests and a lifetime of suffering.