Size
4
5
6
Weight
9-14 kgs
20-31 lbs
11+ kgs
24+ lbs
14+ kgs
31+ lbs
A question we hear a lot is what age size 6 nappy pants are best for. This of course depends not just on the height and weight of your little one but also on your family's preferences. As a general guideline, they are well suited for children 2.5 years and older. Have a look at our Ultimate Nappy Size & Fit Guide for further advice on age ranges and common nappy questions.
These are the roomiest nappies in our range and ideal for fostering confidence and independence in potty training. If your little one is already fully potty trained, well done! At this age, size 6 nappy pants are also great as an insurance policy for overnight use, with your little chatterbox now sleeping longer at night. Our super soft waistband makes them especially comfy and cosy for extra-sweet dreams.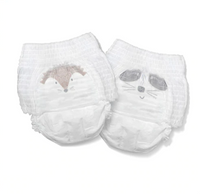 Each pack comes with 2 fun woodland designs, hedgehog and raccoon, allowing your child to pick their favourite for storytime. Most importantly though, they're the most sustainable nappies you can buy. With 26 industry awards under our belt, we want to provide you with the peace of mind that you are ensuring your toddler is wearing the purest, most planet-friendly nappy pants on the market.
And what's more, as each pack sold contributes to the Kit & Kin Foundation, you are also permanently protecting rainforest trees in the process. 
Buy size 6 eco nappy pants