Size
1
2
3
4
5
6
Weight
2-5 kgs
4-11 lbs
4-8 kgs
9-18 lbs
6-10 kgs
13-22 lbs
9-14 kgs
20-31 lbs
11+ kgs
24+ lbs
14+ kgs
31+ lbs
Approx. age

up to 2

months

2-6
months
3-9
months
6-18
months
18+
months
24+
months
Average
nappies
per day
8-10
8
6
6
5
5
We are often asked what age size 4 nappies are best for. Well, this is a big milestone size. Not only will it likely be around for your baby's big first birthday bash, but your little one will probably wear it while taking their first steps!
We obviously had to make ours extra cute. Featuring our beloved fox and tiger designs, they are the best size 4 nappies for adorable cake smash and walking snaps. Most importantly though, they're the most sustainable nappies you can buy.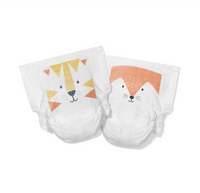 With 26 industry awards under our belt, we want to provide you with the peace of mind that you are not only doing your bit for the environment, but you're also ensuring your baby is wearing a nappy that's gentle and super soft to protect their sensitive skin. And what's more, you are also permanently protecting rainforest trees in the process. 
For help with nappy sizing, fit and advice on how long size 4 nappies will likely be right for your little one, have a look at our Ultimate Nappy Size & Fit Guide.
Buy our size 4 nappies